Description
1 – 30 MHz Common mode filter with bifilaire windings for optimal attenuation
There are many types of common mode chokes available, HF Kits opts for a common mode choke with bifilar windings for optimal filtering. This 1 – 30 MHz common mode current filter is optimized for the 80 and 160 meter band. In this case a FT240-31 toroidal core with optimal performance for the lower frequency range is used. The 1 – 30 MHz common mode choke performs very well on the entire HF spectrum. The attenuation is therefore around 30 dB across the entire HF frequency spectrum. This filter is therefore a real all-rounder for amateurs who want to work from 160 meters to 10 meters. Even people who deal with LPAM (Medium Wave) can use this filter.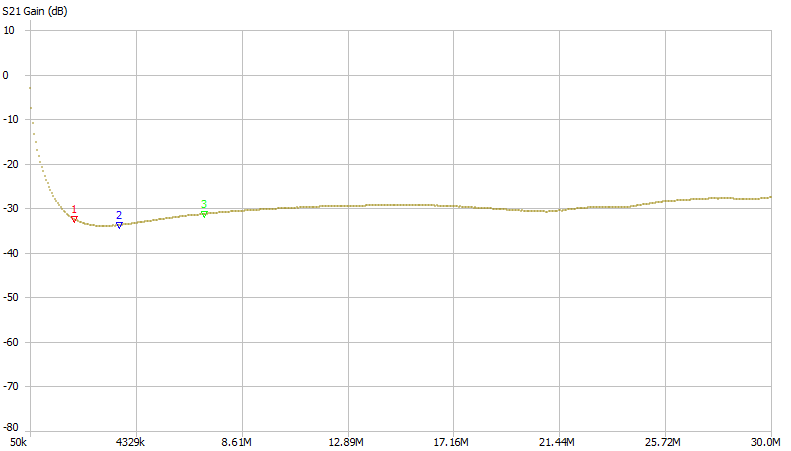 Why are common mode chokes useful? Common mode chokes are used in many applications. Here are some examples: for "End Fed" antennas so that the coax cable does not become part of the antenna. Ground plane antennas, so that the coax cable's shield is not used as an extra radial. Between transceiver and amplifier to prevent earth-loops. Directly at the feed point of a dipole antenna (here it is often called a current BalUn). Another situation where it may be useful is when you enter the House (shack). Because in many cases the coax cable does not always leave the antenna at an angle of 90 degrees with respect to the antenna radiator, sot the shield of the coax cable picks up the signal from the antenna directly.
The main reason for using a common mode choke is to ensure that the coax cable's shield does not become part of the antenna system and will radiate unintentionally. This has all sorts of nasty effects, think of: interference issues, disrupted radiation pattern of the antenna and a higher noise level. This last point is because not only does the coax cable's shield radiate when you transmit, but the shield also works as a receiving antenna. Because the coax cable often makes a considerable trip within the house, close to interference sources (mains, PLC etc…) It is useful to eliminate these sources of interference. Any way, Good reason to use a common mode choke.
The effect of this common mode choke with bifilar windings is difficult to predict. This depends on local circumstances. Think of: antenna type, antenna placement, type of feed line, feed line placement and especially local sources of interference. There are manufacturers that promise in advance a significant drop in interference, however this is not real. There are cases where the noise level decreases by two to three S points, but also cases where the filter has almost no effect.
This kit includes:
IP65 enclosure 100 x 100 x 55 mm
Ringcore Amidon FT240-31
Winding wire 18 AWG – 4x 85cm PTFE 19 x 0.25 mm copper "Silver plated"
Toroid mounting plate
Stainless steel M3 6mm screws 4x
Stainless steel M3 Spring washer 4x
2x PL 259 Chassis
2x M3 cable lug
8x Stainless steel M3 Bolt 12mm
8x Stainless Steel M3 Nut
8x Stainless steel M3 washer
8x Stainless steel M3 tooth washer
Click here for a construction manual of this common mode choke
Tips:
Do not place the common mode choke in case of an End Fed antenna directly at feed point of the antenna.